THE D3 GROUP NEWS
News & Meetings: August 23rd, D3G scientific networking meeting & fundraiser, Melbourne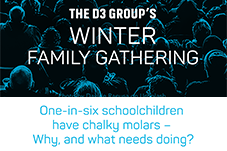 July, 2017
At last another D3 family gathering is upon us. This educational + celebratory event is divided into two main parts (afternoon, evening)
each offering CPD recognition. More details here.
>
>
---
D3 In The Clinic: D3s and caries in primary teeth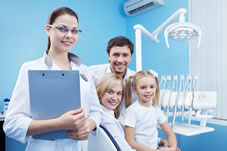 July, 2016
Addressing caries risk associated with D3s in the primary dentition,
Kim Seow and colleagues from Queensland recently reported a ground-breaking longitudinal study that followed children from birth through to
6-years old. Enamel hypoplasia and severe Molar Hypomin (yellow/brown opacities undergoing surface breakdown) were associated with 4.5 to
6-fold higher incidence of caries. About 10% of 725 children studied had
at least one tooth affected by D3 and their caries developed much earlier
than in teeth lacking D3s (read more here). These findings strengthen the
evidential base for our Chalky Teeth Campaign.
---
D3 In The Lab: Research award for D3G PhD student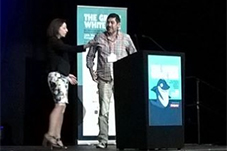 December, 2015
Winner of this year's Colgate-ANZSPD research award was Vidal Perez,
a Chilean paediatric dentist studying for a PhD in Melbourne (see August 2014 news). Competing against a variety of fabulous presentations,
Vidal's engaging description of his biochemical investigations into the pathogenesis of chalky enamel won the day, helped perhaps by
closing remarks expressing intent to spread his "Australasian D3 family"
experiences across Latin America. Vidal graduated in December, with
his thesis earning a commendation for the Chancellor's Prize at the
University of Melbourne. Pictures here.
PAST NEWS
2017 | 2015 | 2014 | 2013 | 2011 | 2009 | 2008
D3G's first offshore network meeting
March, 2017
Spurred by burgeoning interest in internationalising D3G plus a timely gathering of researchers (IADR General Session), our first offshore network meeting was held on Friday 24th March at an Irish pub in San Francisco. Over a scrummy pub lunch, the launch of overseas membership in D3G ("International friends of D3G") was toasted and ideas exchanged about what should come next. Read more here.
---
ANOTHER MILESTONE FOR THE D3G WEBSITE
March, 2017
The "three million hits" milestone was passed in February, reflecting interest from around the world. Usage continues to climb (now averaging 250 visits per day) and Sam's storybook has been downloaded over 5,200 times. Most traffic comes from Australia, USA and UK but with many other countries not far behind it appears D3G's impact is spreading.
---
Farewell to Grace Suckling, our Patron
August, 2015
After a remarkable life spanning 93 years, Grace Webster Suckling (b. 22/1/22) passed away on July 20th in Waikanae (near Wellington, NZ). Trained as a dentist in Dundee, Scotland, Grace practised in the UK before moving to NZ in 1956. After raising her family, she joined the Dental Research Unit in Wellington and, at the age of 50, started researching developmental defects of enamel (DDE) in sheep. A stunning 29 research papers later, she had not only spawned the DDE index but also produced what remains today an unsurpassed and rock-solid contribution to terminology, diagnosis and aetiology (i.e. DDE epidemiology and pathogenesis, enamel biophysics, fluorosis and tetracycline staining). In becoming our Patron (see August 2013, below), Grace was interviewed by D3G-NZ rep, Erin Mahoney (clips). We plan to bring the full interview, and other remembrances of Grace's fabulous and oft-overlooked gems, to this website shortly. From doyen of DDE to patron of D3G, thankyou, and rest in peace Grace Suckling.
---
Strong D3G presence at the IAPD Congress in Glasgow
June, 2015
Besides the usual participation by many D3G members, this year's biennial worldwide meeting of paediatric dentists features a D3-themed talk by Melbourne PhD candidate, Vidal Perez, and D3G promotional materials in delegate's bags (all 1,700 of them!). Vidal will outline how the "D3 family" has helped his molecular investigations into the pathology of "chalky enamel", and invite people to attend the next IAPD congress being held in his home country, Chile. Our thanks to ANZSPD, IAPD, and Vidal's travel sponsors for making this important exposure possible.
---
Epidemiology/clinic
June, 2015
Teaming up with two MIH stalwarts, Melbourne academics Aghareed Ghanim and David Manton have admirably broached two troubling topics in the Hypomin field. First, the need for better standardisation of epidemiological studies (and allied aetiology) is argued, and a statistical basis for sample sizing offered. Second, standardised scoring and charting regimes are suggested, in essence being further adaptations of the DDE index that emanated from studies by our patron Grace Suckling ("atypical fillings/extraction", review). Although D3G offers a different perspective on several details, the general principles of these arguments clearly need to be heeded (read more here and here).
---
Lab/clinic
June, 2015
Following the illustrious footsteps of Rami Farah, Otago postgraduate student Arun Natarajan applied a new approach to characterise the composition of Hypomin enamel. Teaming up with experts from Chemistry and Mathematics, Raman microscopy was used to chemically map "chalky" lesions, and then the effects of different resin infiltration procedures were examined. Pretreatments (acid, protein removal) improved Hypomin enamel properties (in most cases) and resin penetration (in most cases). The exceptions, plus evidence that clinically similar "brown opacities" diverged at chemical level, offer multiple possibilities why a Melbourne group had found such resin treatments to be inconsistent (read more here and here).
---
Another milestone for the D3G website
June, 2015
Having passed "one million hits" last November, www.thed3group.org has now reached a new milestone by hosting its 100,000th visitor. Usage continues to climb (now averaging 180 visits per day) and Sam's storybook has been downloaded 4,000 times. It appears D3G's impact is spreading, both in Australasia and beyond.
---
ADOHTA to distribute D3G referral cards
June, 2015
With high demand following our recent Chalky Teeth promotion, ADOHTA has kindly agreed to distribute website referral cards to their members on behalf of D3G. This family-spirited move provides much-needed relief for the D3G secretariat. We thank ADOHTA president Hellene Platell for sanctioning this pioneering step.
---
Chalky Teeth promotion to Australian therapists
May, 2015
Thanks to sponsorship by the ANZSPD, all ADOHTA members will receive a glossy copy of Sam's storybook along with website referral cards and a sheet of the Colgate-D3G reward stickers. With therapists playing such a key role in identifying "Hypomin kids" and educating their families, this generous initiative from the paediatric dentistry community exemplifies the "family ethos" of D3G. We thank presidents John Sheahan (ANZSPD) and Hellene Platell (ADOHTA), and Colgate, for colloborating with D3G on this milestone project.
---
NZ orthodontists treat local therapists to Sam's story
May, 2015
Having received a glossy copy of the Sam book at the NZAO conference, orthodontist Betty Keng obtained a further 50 copies to give to school therapists in her region (Taranaki). On hearing this fabulous example of "D3 family spirit", two other orthodontists (Mark Ewing, Sax Dearing) did the same thing for their respective regions (Waikato, Hawkes Bay). We thank Betty, Mark and Sax for pioneering this wonderful initiative, and for their allied donations to D3G.
---
Strong D3G presence at the NZ orthodontists' biennial conference in Napier
April, 2015
Building from a D3G-themed presentation by Nina Vasan in 2013, three D3G stalwarts (Erin Mahoney, Paul Schneider, Mike Hubbard) gave "world-first" interlinked talks about Molar Hypomin from paediatric dental, orthodontic and D3G+scientific aspects, respectively. And delegates were treated to a glossy copy of Sam's storybook thanks to sponsorship by NZAO. We were thrilled to find so many Kiwis clued-up about the orthodontic aspects of Hypomin and already using our website. Thanks to NZAO for providing this opportunity.
---
GC+D3G Molar Hypomin brochures prove popular
March, 2015
GC's education+marketing brochure for Molar Hypomin families, developed collaboratively with D3G (see December 2013 news, below), is proving highly popular. Since GC's initial distribution of 8,000 copies across Australasian dental practices, a further 12,000 copies have been requested by practitioners (available through Henry Schein at no cost). The partner brochure for dental practitioners continues to be available online.
---
Sam's story is at the Australian Dental Congress
March, 2015
The Chalky Teeth Campaign marches on, this time to Brisbane where 3,000 glossy copies of Sam's storybook will be distributed to delegates, along with the website referral card. D3G warmly thanks GC Australasia for sponsoring this promotion, and ADA for their support.
---
Aussie hygienists endorse D3G
January, 2015
Australia's peak body for dental hygienists (Dental Hygienists' Association of Australia) has now joined the D3 family, complementing the presence of their therapist colleagues (ADOHTA). We thank DHAA for their endorsement and look forward to working together.
---
Glossy copies of Sam's storybook available now
December, 2014
Since airing the commemorative copy last August (see website launch report, under Events), the "glossy print" version of Sam's storybook has attracted praise as a valuable adjunct to the free digital versions, which can be viewed online or downloaded for printing. It appears we are not alone in enjoying the pleasure of holding (and smelling?) a real book, and flipping through its shiny pages. So, we are now making glossy print copies available in exchange for a donation to D3G (A$4 per copy plus delivery for bulk orders). Please email d3-sam@thed3group.org to order.
---
Major milestone for the D3G website
December, 2014
The "one million hits" milestone was passed in November, reflecting steady usage that continues to climb (currently averaging 160 visits per day). All audience sections (KIDS, FAMILIES, COMMUNITY, PRACTITIONER, RESEARCHER) are being accessed strongly, suggesting a diverse user base. And Sam's storybook has now been downloaded more than 3,400 times. Clearly, with this amount and diversity of traffic in just over a year since launch, www.thed3group.org is helping many people around the world.
---
Sam's storybook features at therapists' conference
October, 2014
Complementing a lecture by D3G co-director, David Manton, the South Australian & Northern Territories branch of ADOHTA kindly sponsored a copy of Sam's storybook for all delegates at their annual conference in Adelaide. This move caps a recent groundswell of interest in D3G by the therapist community, as evidenced by numerous requests for website referral cards and membership. D3G thanks ADOHTA-SANT for this pioneering step and the allied donation.
---
Bite magazine article on D3G
September, 2014
Instigator and co-director of D3G, Mike Hubbard, was interviewed by Bite magazine's Chris Sheedy about his vision and experiences in establishing D3G as a translational research and education network. This new article relays how "the D3 family" approach is steadily overcoming a variety of longstanding barriers, complementing an earlier outline of Hubbard's thoughts about D3G.
---
NZ Dental Students endorse D3G
September, 2014
Naturally we all hope that the next generation of dental professionals have a better understanding of D3 issues than their predecessors. An added bonus of the 2014 Wrigley project was that the NZ Dental Students Association became endorsers of the D3G website initiative. We look forward to working collaboratively with NZDSA on future educational projects.
---
D3G lands another two Wrigley grants
September, 2014
For the second year running,D3G has won funding support from the Wrigley Company Foundation's Community Service Grants in Australia and NZ. This year's "Student Power" project took the Chalky Teeth campaign to dentistry and therapy students in both countries, providing them with a glossy copy of Sam's storybook, plus a sample of the new website referral cards and Colgate-D3G reward stickers. Our thanks to Marilyn Owen and Alejandra Hernandez (Oz) and Bernadette Drummond, Omar Alsabiry and Erin Mahoney (NZ) for fronting these projects, and the many other volunteers and dental school representatives that made this promotion possible.
---
New website referral cards released
September, 2014
Having distributed 16,000 of the original "professional look" business cards, D3G decided it was time to better serve our main target audience. The new "family-friendly" card features the Sam and Toothy characters from www.thed3group.org. Our thanks to D3G designer, Sharon Dunn, for this colourful new addition to the D3 family, and to Julie Barker (President, ADOHTA) for suggesting it. The new cards are available by emailing secretary@thed3group.org.
---
D3G PhD student gives lectures in South America
August, 2014
Vidal Perez, a Chilean paediatric dentist studying for PhD at the University of Melbourne, has returned from a 3-week tour of Uruguay, Brasil and his home country, delivering 9 lectures to diverse audiences (2 dental conferences, 2 paediatric dentistry societies, staff and postgraduates at 4 universities). Great interest was received in the general concept of research translation, as exemplified by D3G, as well as the specific translational approach used by Vidal to investigate the pathogenesis of Molar Hypomin. The tour culminated with a 20-minute interview televised by ChileGlobal, which took our D3 research+education message to an international Latin audience. Our thanks to Vidal's hosts and travel sponsors for making this important exposure possible.
---
Colgate and D3G collaborate to produce children's reward stickers
August, 2014
Early in the D3 project, several members said it would be nice for "Hypomin kids" to have their own "special reward" stickers and so this prospect was embedded in the website and Sam's storybook. Pleasingly, the "Colgate ladies" in Sydney agreed and suggested a design based on D3G's "Toothy Scientist" giving an oral hygiene message. This vision was brought to life by our graphic designer, Sharon Dunn, respecting the "rules" developed for educational+marketing brochures (i.e. avoiding exclusivity and D3G endorsement of particular products; see December 2013 news). We thank Susan Cartwright, Lenore Tuckerman and Sarah Raphael from Colgate for collaborating on this great addition to the D3 toolbox, and Colgate Australasia for sponsorship of a substantial print run.
---
Kiwi therapists endorse D3G
March, 2014
Further acknowledgement of the key role played by therapists in identifying "D3 children" has come from D3G's latest endorsement, the NZ Dental and Oral Health Therapists. We welcome NZDOHT to the D3 family and look forward to working together on shared educational interests.
---
GC and D3G team up to produce educational brochures
December, 2013
In a pioneering "D3-family effort", two educational brochures were developed collaboratively by GC and D3G this year. Targeting dental professionals and Molar Hypomin families respectively, this multilevel education+marketing campaign was designed to be a "4-way win" (i.e. benefiting families, practitioners, GC and D3G). To avoid any suggestion that D3G endorses GC products, both brochures clearly endorse D3G educational resources (rather than the other way round) and are being produced and distributed by GC. D3G hopes that, by making its educational content available non-exclusively to companies and other "distributors", a consistent message will be relayed to the public, politicians and healthcare professions alike. We thank Stephen Haynes and Alexandra Sbaraini at GC for helping develop suitable "rules of engagement" and then producing documents that honour the "look and feel" of D3G. Independent contributions from several D3G members are also acknowledged.
---
World peak for paediatric dentistry endorses D3G
November, 2013
D3G was thrilled to receive endorsement from the International Association of Paediatric Dentists, which represents over 15,000 members from 59 children's dentistry societies worldwide. D3G members have played leadership roles in IAPD over many years, including hosting the 2005 Congress in Sydney. We salute their contributions for engendering global respect of D3G's social mission, and particularly thank IAPD President Eduardo Alcaino for prioritising this key endorsement.
---
Kiwi orthodontists endorse D3G
November, 2013
Hot on the heels of their trans-Tasman colleagues, the NZ Association of Orthodontists has kindly added their endorsement of D3G's educational website and Chalky Teeth campaign. Welcome to the D3 family NZAO.
---
Aussie orthodontists endorse D3G
October, 2013
Better recognition of the intricate interrelationships between Molar Hypomin and orthodontics is a central plank of D3Gs educational mission. Consequently, D3G was pleased to have the Australian Orthodontic Society endorse its website initiative. We look forward to working collaboratively with ASO on research and educational areas holding mutual advantage.
---
Aussie therapists endorse D3G
September, 2013
Recognising the crucial "early detection" role that dental and oral health therapists play with D3s in children and adolescents, D3G was honoured to have their Australian peak body (ADOHTA) endorse our website initiative and offer collaborative assistance with ongoing developments (including kiddie stickers and family-friendly referral cards). We look forward to further interactions with this important branch of the dental healthcare family. 
---
D3G lands two Wrigley grants
September, 2013
D3G has won funding support from the Wrigley Company Foundation's Community Service Grants for its website rollout activities in Australia and NZ. Drawing on voluntary inputs from the large student membership in Melbourne, our ADAF-Wrigley project brings "student power" to the promotion and further development of D3G's educational resource. Likewise, the NZDA-Wrigley project will boost Kiwi awareness through distribution of promotional materials. Our thanks to Marilyn Owen and Daniel Cocker (Oz) and Erin Mahoney (NZ) for fronting these projects.
---
A special patron for D3G
August 24, 2013
A closely kept surprise for those attending the D3G launch event was news that research pioneer Grace Suckling has agreed to be D3G's patron. D3G co-director Mike Hubbard outlined how, as "doyen of the DDE era", Grace made huge contributions to the D3 field, including the first diagnostic index for "Developmental Defects of Enamel" (DDE index) and publication of 29 research papers spanning a remarkably broad range of science (e,g, epidemiology, pathogenesis, biophysics). Still going strong after 91 years, Grace was interviewed for the event by D3G-NZ rep, Erin Mahoney (video). Pursuing its translational mission, D3G plans to bring more of Grace's fabulous and oft-overlooked contributions to the forefront shortly.
---
Launch of Chalky Teeth, website and medico-dental initiatives
August 24, 2013
After more than 3 years' gestation, D3G's online education resource was finally launched officially by MRUFD benefactor Maria Myers. Adding excitement, paediatrician Sharon Goldfeld announced the intention of two Australasian Royal Colleges (Physicians, Dental Surgeons) to collaborate with D3G on preventive aspects of "D3-caries". And as icing on the cake, unfurling of our public-friendly "Chalky Teeth" campaign gained worldwide attention. For further information, see the three separate reports above (under Events).
---
Royal Dental College endorses D3G
August, 2013
D3G was honoured to receive endorsement for its website initiative from the Royal Australasian College of Dental Surgeons. This liason is pleasing at multiple levels, noting RACD's interactions with RACP on child oral health (see news item below) and that many RACDS members have supported development of the D3G website. Also enticing is the collaborative interest expressed by RACDS in adding assessment capabilities to some sections of the website, with a view to boosting utility for practitioner education (cf. possibility of a terminology test).
---
RACP Oral Health update
August, 2013
In 2012, the Royal Australasian College of Physicians (Paediatrics and Child Health Division) released a pioneering position statement about oral health in children and young people. Following input from D3G, the document has now been extended to cover D3s and associated risks including caries. The updated strategy document, which is supported by the Royal College of Dental Surgeons, can be downloaded from here or directly. This initial interaction with the RACP is a key milestone for D3G, particularly noting the all-important medical aspects of Molar Hypomin and ensuing prospects for involving medical and allied health practitioners in preventive interventions.
---
Dental associations endorse D3G
August, 2013
Ahead of the official website launch in late August, D3G was honoured to receive endorsements from the national bodies for general dentistry in Australia and NZ: the Australian Dental Association and the NZ Dental Association. We view these connections as particularly important, noting the key role that dental GPs play in early detection of D3s and interception before "the rot" (caries) sets in.
---
Paediatric dentists endorse D3G
August, 2013
Following its pre-launch in April, the D3G website initiative was privileged to receive endorsements from both Australasian peak bodies for paediatric dentistry: the Australasian Academy of Paediatric Dentistry and the Australian and NZ Society of Paediatric Dentistry. With members of both organisations having made invaluable contributions during website development, we look forward to further collaborative activities.
---
Website referral cards distributed
August, 2013
To help connect needy families with our education resource, D3G has developed website "business cards" for practitioners to hand out as a modern alternative to patient brochures (which are more costly, less readily updated and offer only a fraction of the information on the website). To grow awareness within the profession, these cards are being distributed at conferences and by mailouts. We are grateful to the branch secretaries of ANZSPD for their help in distributing cards to over 300 members across Australia and NZ, and to our financial supporters that enable these cards to be provided free. To request cards, see here, and to download the associated flyer click here
---
Companies support D3G rollout
August, 2013
As acknowledged on the homepage, the Australasian branches of three multinational companies have become "supportive family members" of D3G by subscribing to D3G's cross-sector-family philosophy and donating generously towards the website rollout activities. Joining long-time supporters Dentsply and Colgate are GC Corporation and A-dec. Additionally, Acteon made a helpful donation towards costs of the launch function. We look forward to further collaborative efforts in education, research and advocacy, and welcome other companies to join the D3G family (for further info please contact D3G's Directors).
---
Clinic
August 12, 2013
In what turned out to be a herculean research project, Melbourne DCD student Kelly Oliver undertook the first "real-world" testing of the Molar Hypomin Severity Index (MHSI) developed earlier by Louise Messer and colleagues. By teaming up with five specialist paediatric dental practices, an impressive 283 cases were gathered and characterised in detail (e.g. lesion colour, location, breakdown, restorations and sensitivity). The real-life spectrum of presentations was found to be well-captured by the MHSI, suggesting this diagnostic index will serve as a useful guide in the clinical management of Molar Hypomin. (read more)
---
Lab
August 12, 2013
Having treated members to several previews at D3G meetings, Felicity Crombie has now advanced to publishing three reports from her PhD investigations of Hypomin molars. Firstly, using a variety of lab tests (chemical and physical), she found that not only was Hypomin enamel strikingly different than normal, but also that its clinical appearance and physical properties weren't tightly correlated. (read more) This perplexing variability was echoed in two lab studies of treatment options, where resin infiltration was found to "work" in some cases but not others (read more) and treatment with caries-remineralising solution (CPP-ACFP) led to varied improvements in hardness of Hypomin enamel (read more). Like all good PhD projects, this one opens the door to many intriguing opportunities for follow-up research.
---
Website pre-launch
April 2013
After three years gestation, D3G's new website was unveiled to the dental community at annual meetings of specialist paediatric dentists (Australasian Academy of Paediatric Dentistry) and general practitioners (35th Australian Dental Congress).These events generated much positive feedback and a major surge in website traffic. For more information see the separate report above (under Events).
---
Epidemiology
March, 2013
In a remarkably productive PhD project, Aghareed Ghanim characterised many facets of Molar Hypomin in her home country, Iraq. Exploiting her experience as a paediatric dentist, Aghareed examined the second primary molars and permanent (adult) teeth in a large group of children from Mosul City. MIH was found to affect about 19% of permanent dentitions and 7% of second primary molars (read more here and here). Medical history analysis suggested causal associations with illness during infancy but no single factor was identified as a potential cause of MIH (read more here and here). Affected adult molars were found to have higher incidence of caries and to require at least twice as much restorative treatment as unaffected molars (read more here and here). In a prior survey of Iraqi dental academics, a vast majority reported they encountered MIH on a regular basis (read more).
---
Lab/clinic
March, 2013
Using clinical proteomics, two D3G research teams have characterised Molar Hypomin lesions at protein level for the first time. Dunedin-based workers (Farah, Monk, Swain & Drummond) found that discoloured Molar Hypomin enamel had much higher amounts of protein than normal. Some of the proteins identified are typically associated with serum, leading the team to suggest a mechanism that could help explain the abnormal protein and mineral contents of Molar Hypomin enamel (read more).
A multidisciplinary team from Melbourne (Mangum, Crombie, Kilpatrick, Manton & Hubbard) also found high protein contents and went on to show that lesions with intact surfaces contained different types of protein than those with broken surfaces. These findings enabled the team to discriminate serum-derived proteins from those originating in saliva, so leading to novel insights about the pathogenesis of Molar Hypomin (read more).
---
Epidemiology
2011
Kim Seow and colleagues from Brisbane have compared the prevalence of D3s in baby (primary) and adult (secondary) teeth of school children. They found that the primary teeth had almost half as many enamel defects as secondary teeth, and that these were mostly demarcated opacities with about 1 in 7 exhibiting surface breakdown. These findings confirm that Hypomin lesions could contribute substantially to caries risk in the primary dentition. (read more)
---
Lab
2011
Rami Farah and colleagues from Dunedin investigated Molar Hypomin lesions of varying severity using X-ray microtomography. They took particular care over density calibration, so enhancing their quantitative interpretations. Mineral density was found to vary according to position on the tooth, depth within the lesion, and relationship to developmental lines. (read more)
---
Clinic/epidemiology
2011
In a world-first study asking whether ethnicity influences the prevalence of Molar Hypomin, Wellington researchers (Mahoney & Morrison) found equal rates in children representing Maori, Pacific Island and NZ European groups. The overall prevalence (15%) and heightened risk for caries (up to 12-fold increase in DMFT) puts this NZ subpopulation in line with reports from other countries. (read more)
A follow-up study comparing children from a central-city environment with "out-of-towners" revealed a somewhat higher prevalence for city kids (about 19% had Molar Hypomin, vs 15% as above) but no obvious association with socioeconomic status was found. Compared with Hypomineralisation, Hypoplastic defects were an uncommon finding (affecting less than 1% of kids). (read more)
---
Clinic/aetiology
2009
Felicity Crombie (then a PhD student) and her Melbourne colleagues critically reviewed previous reports about suspected causes of Molar Hypomin. Although specific causes were unable to be established, some potential risk factors were identified. Overall, the level of evidence was found to be low and the need for long-term prospective epidemiological studies was highlighted. (read more)
---
Aetiology
2009
Following from his prevalence study (see below), Peter Arrow investigated the potential risk factors associated with Molar Hypomin in Western Australian schoolchildren. Children with an infection during the neonatal period were found to be over six times more likely to have demarcated enamel defects. (read more)
---
Clinic
2008
A retrospective study of 182 children with Molar Hypomin seen in a Melbourne paediatric dental practice led Chawla, Silva and Messer to describe an "MIH spectrum". That is, cases ranged from mild, where only the molars were affected, to severe with involvement of both incisors and molars. Aetiological associations with combinations of antibiotic use, ear infections, fevers, perinatal conditions and other illnesses in the child's first three years of life were also found. (read more)
These data were also used to develop a Hypomineralisation Severity Index intended to help clinicians determine the best management options for Molar Hypomin. (read more)
---
Clinic
2008
The knowledge, clinical experience and opinions of specialist practitioners in regards to Molar Hypomin have been assessed by Felicity Crombie and colleagues. Questioning members of the Australia and New Zealand Society for Paediatric Dentistry revealed that Molar Hypomin was widely recognized and posed significant clinical problems. A majority of respondents felt a need for further research in this area. (read more)
---
Epidemiology
2008
Peter Arrow reported the first comprehensive study of Molar Hypomin prevalence in Australian schoolchildren (n= 511). Investigating a Western Australian population, 22% were found to have demarcated opacities on at least one first permanent molar, a figure that is somewhat higher than the average reported elsewhere in the world. (read more)