Join The D3 Group
We're keen to embrace membership from across the community, whether you're involved in delivery of healthcare for D3 or a recipient of it – in fact we welcome anyone with a constructive interest in D3 and social good.
Individual membership subscription is open to everyone, anywhere – so those of you from countries beyond our Antipodean hub are encouraged to join the growing family of paid-up members spanning 6 continents. As an individual member you're entitled to proudly wear our 'I Fight Chalky Teeth' T-shirt' (see below).
We're also developing 'We Fight Chalky Teeth' (WFCT) ventures too, initially with specialist practitioners and organisations from Down Under (see here & here, and contact us for further details).
To start a new individual membership, read on below about membership
levels, 'D3 Pay It Forward' opportunities, and How to Join with a few
simple clicks online.
To renew an existing individual membership most simply, please go here.
Individual subscription for just AU$50 yearly (≈US$40)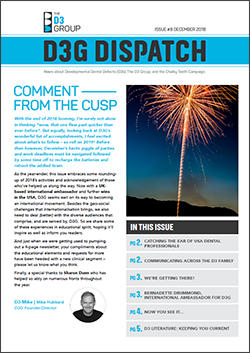 By becoming a full member, you'll receive:
Our regular

e-newsletter

with unique D3-flavoured educational content including the latest publications (D3G Dispatch, sample). NOTE: We regret

D3G Dispatch

is currently paused until our small admin team has reequilibrated after the Toronto D3 Symposia and pandemic.
Interim

email alerts

(D3G event invitations, urgent news & happenings etc)
A

membership pin

for your country/state on our "D3 family map"

Ticket discount

at D3G events
Free D3G referral cards (postage only)

Helpline

for student/researcher/practitioner (email, informal only)

Entitlement

to wear our eye-catching 'I Fight Chalky Teeth' T-shirt (below)
For researchers, the latest prevalence data (before periodic website updates) on request
A

warm buzz

from knowing your support helps many others (social impact)
Subscriptions run for 12 months from date of first payment.
Basic email membership for only AU$10 once (≈US$7)
Email membership is perpetual until further notice, and can be upgraded to individual subscriber at any time by paying the difference (currently AU$40 – see How to Join, below).
By joining our email list, you'll receive:
Email alerts (D3G event invitations, major news, happenings & offerings)
'D3 Pay It Forward'
While the cost of D3G membership is a relatively minor amount for many of us, this is not the case for those in less-fortunate circumstances. Should you wish to Share D3 Love, please order a "Buy one, Sponsor one" membership and we will offer your gift subscription to a low-income colleague from less-developed parts of the world. As this scheme unfolds, we will log the social impact by mapping the number of beneficiaries and their locations. We are delighted that, thanks to the generosity of many subscribers, several forward-paid memberships are now available – if you know of or consider yourself a deserving beneficiary of this gift, please contact the Secretary.
Read more about 'D3 Pay It Forward' ("Sharing D3 love"), other opportunities
to Give Back to D3G, and D3G's funding needs as a volunteer-run charity here.
How to join
Please use the eShop below (accepts Visa, Mastercard, Amex, PayPal, Apple Pay, Google Pay).
If using a credit card, make sure you enter the billing details for that card – note these usually differ from your work address in the case of a personal credit card. The subscription can be linked to another address (e.g. work office) on the next checkout page.
Soon after completing the payment step, you'll receive an email requesting the following information which we will use confidentially for communicating with you and for reporting the the composition of our D3 family (the latter will be anonymous/de-identified):
Profession/occupation

– are you a health professional or "other interested party"?

Company

– do you work for a healthcare company?

Research experience

– are you a published researcher, even if years ago?

Do YOU have a D3?

– prevalence of D3s across our membership will be an eye-catching statistic in social-impact reports.

Membership publicity

– approval for listing at International Friends or D3G Down Under (optional)
For a standard AU$50 Annual Subscription (≈US$36; other currencies), simply press the orange Add to cart button below. You can pay ahead for two or three years if you wish to save time and lock in today's low price – just change from 1 to 2 or 3 subscriptions accordingly.
To sponsor a 'D3 Pay It Forward' subscription (i.e. your $50 plus a $50 gift), select AU$100 Buy one - Sponsor one by pressing the white AU$50 Annual Subscription box (down arrow). Please contact us if you wish to discuss potential beneficiaries and anonymity etc.
Likewise, for Upgrade or Basic Email subscriptions, select as appropriate by pressing the white AU$50 annual subscription box.
Please contact the Secretary if any difficulty is encountered.
D3G Merchandise
While you're on the job, why not complement your D3G membership and support D3G further by grabbing some copies of 'Sam's Storybook' – a great educational tool for your practice, and a wonderful gift for needy children in the public sector (learn more about 'Sam's Story' here and here, and 'Sam's Story Club' here and here).
Likewise, how about an 'I Fight Chalky Teeth' T-shirt and some website referral cards as available here.