LEARNING LOOP – PAY TO LEARN AND HELP FUND NEW SCIENCE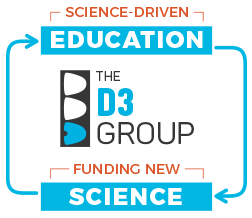 Spurred on by our international workshop in 2020, 'Learning Loop' is D3G's innovative social enterprise approach to driving new understanding through D3 research and learning. Paying for the exclusive educational opportunities offered here enables you to learn today's "latest and greatest" while contributing towards tomorrow's scientific advances and education. In other words, this is a positive feedback loop that uses science-driven education to fund new science (see Figure) and also combines "user pays" with "giving back for social good".
Since launching in 2013, all our educational content has been available for free thanks to D3G's philanthropic origins and subsequent charitable contributions from many insiders and external entities... read more >>.
Continuing D3 education for health professionals
D3G'
S

PRE-SYMPOSIUM WORKSHOP – CE PACK

Aptly, our first "pay to learn" offering involves D3G's Pre-symposium online workshop on Molar Hypomineralisation and Chalky Teeth where the Learning Loop concept was first aired, attracting widespread praise. This comprehensive Continuing Education (CE) pack offers up to 7 hours of certified study based on three 2-hour videos, enriched discussion (Q&A) records, a futuristic discussion framework plan, and optional CE quizzes for each hour. Watch our 3-minute video trailer here, learn more about the D3 Workshop here, and register for the CE pack (prices from $50) as follows.

Before registering, please read the instructions available here.

Note that:
(1) Discounts apply to existing D3G members and individuals from lower-income countries (LIC)
(2) D3G membership is included in the non-member fee
(3) Video viewing is subject to an individual (registrant) end-user license agreement
(4) On receiving your payment, we'll email you the video registration and access details

While you're on the job, why not complement your D3G membership and support D3G further by grabbing some copies of Sam's Storybook or an I Fight Chalky Teeth T-shirt – see the bottom of this page for more information.

Return to Toronto D3G events page >>




D3G event services – 'Rent an event' and 'Hire a D3
er

'

Wanting your group or organisation to learn more about Molar Hypomin and chalky teeth? – then why not engage D3G to help you host a collaborative D3 event or lecture?

With our 'Rent an event' offering, we will work with you to conceive, design and implement a learning experience matched to your budget and audience needs. Standard formats include mini-symposium, conference session or multi-component (e.g. education & training) event. Similarly, you can 'Hire a D3er' to give a D3G-approved lecture to your class, study group or event.

Continuing education (CE) certification is available in both cases and terms are flexible – with affordability, sponsorship and risk-sharing in mind. For more information, contact the Director.
D3 consultancy
Needing help to develop D3 curriculum, educational materials, policy or research design and the like? We're pleased to offer D3G's unparalleled expertise via paid consultancy for such learning-related tasks – subject of course to complementarity with our own social-good activities and modus operandi.
With the D3 field desperately needing better unity, scientific robustness and social impact, we see much potential for win-win outcomes here – whether they be approached on collaborative or cooperative footings. So don't hesitate to share any potential interest, half-baked or otherwise, in our D3 consultancy service (contact the Director).
D3G Merchandise
While you're on the job, why not complement your D3G membership and support D3G further by grabbing some copies of Sam's Storybook – a great educational tool for your practice, and a wonderful gift for needy children in the public sector (learn more about Sam's Story here and here, and Sam's Story Club here and here).
Likewise, how about an I Fight Chalky Teeth T-shirt and some website referral cards as available here.