GRACE SUCKLING – FROM DOYEN OF DDE TO PATRON OF D3G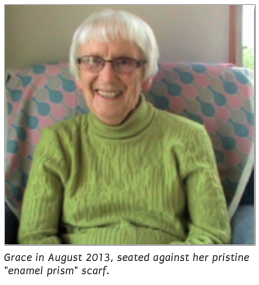 More than anyone, Grace Suckling defined our field.
With an unerring eye towards prevention, she firstly saw the need for dedicated research, then started sensibly with housekeeping (terminology & classification) before moving to aetiology (epidemiology & animal studies). Throughout, she did the basic groundwork, got initial results, refined her thinking and retested, then moved to the next question no matter what it entailed. This was pioneering in every sense of the word. Often it was complex work, yet the questions she posed for each D3 were simple: WHY this appearance, WHEN did it happen, WHAT caused it? All these remarkable accomplishments came from a dentist with no formal scientific training, and a mother who had raised 5 children – inspirationally, Grace started her research at the age of 50.
Grace's is a story of great science and wisdom that begged for translation. We hope this belated tribute will help admirers of her work to share it, and guide new students of D3 to understand key elements of our history that remain pivotal today. On the shoulders of a clever Kiwi we all stand – thanks for everything Grace, rest in peace. 
Grace Webster Suckling (22/1/22 – 20/7/15)
1922, born in Dundee, Scotland
1939, started at Dundee Dental School
1939-56, dental training & practice, UK & USA
1956, moved to Wellington, NZ
1956-68, raised her family
1968, started at Dental Research Unit, Wellington
1969-89, research pioneer
1996, graduated Doctor in Dental Science (Otago)
2015, died in Waikanae, NZ
GRACE THE PATRON OF D3G
In 2013, Grace kindly agreed to be the inaugural Patron of D3G. Unable to join us for the website launch where her patronship was announced, then 91-year-old Grace emailed her best wishes (right) explaining she was away travelling overseas. Earlier, asking what could she possibly do as Patron, Grace was quick to admire today's desire for research translation and the progress made by D3G. After modest hesitation, she agreed to share some recollections with a view to us understanding her past and her inspiring our future. The outcome was a delightful interview, the preparation for which provided foundation for a later talk to paediatric colleagues. 
Video interview by D3G-NZ rep, Erin Mahoney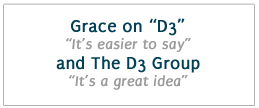 Grace's talk to the NZ branch of ANZSPD, November 2013
Amongst many informative comments, one standout is Grace's lasting question about hypomineralised 6s – "why sometimes 1, 2, 3, or 4 teeth malformed?". She reported this aetiologically pivotal observation in 1976, yet little attention has been paid to it since and only recently have we begun to suspect a surprising answer.
LASTING GEMS FROM GRACE
This translational depiction of Grace's research impacts was shown at the D3G website launch function in 2013. Later seeing this slide, Grace wrote "I have never seen my research career put into such clear categories. It does look impressive and so I maybe deserve to be your patron. I had to go and have a cup of coffee and think about it. I would like to help in anyway I can and agree with your outlook."
As summarised in the above figure, Grace's research has provided lasting impacts in three key areas: 
(1) The DDE Index for Developmental Defects of Enamel
This groundbreaking diagnostic tool was spawned from Grace's frustration with the status quo, her astute observation skills, and a tenacity in conducting clinical trials. The DDE index remains the workhorse for dental epidemiology today, alongside later variants. Often overlooked, the now pivotal reporting of "atypical restorations and missing teeth" (i.e. linked to enamel defects, as distinct from typical caries in normal enamel) was introduced by Grace in 1984 and used by colleagues in 1985. Today, D3G's draft diagnostic guidelines extend her work with some fine-tuning to benefit translational applications.
(2) Aetiology
Before Grace there was loose understanding that various insults (trauma, fluoride, illness) acting at different times underlie many enamel defects, but the field was a dog's breakfast. After Grace, we had a robust sheep model showing precise correlations between trigger event (trauma, fluoride, infection), timing, and pathology (hypoplasia, demarcated and diffuse opacity). For us humans, timing was exquisitely refined through her analysis of a "fluoride accident" in Japan. She also showed that, despite being able to trigger demarcated opacities with infantile infection in sheep, any such causal link in human was invisible at population level – an enigmatic and disturbing predicament that persists today.
(3) Clinicopathological terminology
Before Grace there was little incentive to distinguish the clinical presentations of enamel defects, so few people did. After Grace, we had moved from three clinical descriptors (hypoplasia, demarcated opacity, diffuse opacity) to scientific terms that were mechanistically tied with pathology. Thus, hypoplasia was linked to deficiency in enamel secretion, and hypomineralised opacities to defective enamel maturation – with all three types having distinct aetiological origins. And loss of enamel from severe opacities (today's "post-eruptive breakdown") was rightfully distinguished from hypoplasia. Alas, despite this major advance made decades ago, little heed has been taken by most practitioners of today – an educational problem D3G is working hard to rectify! 
GRACE THE DOYEN OF DDE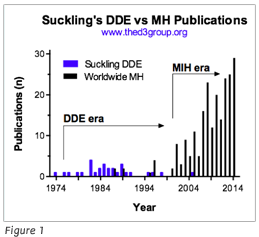 Grace's research kicked off what we hereby term the "DDE era". As Figure 1 shows, her DDE publications spanned more than 25 years, infiltrating what we in turn call the "MIH era". As evident in the bibliography below, this research spanned a broad array of disciplines and approaches, breaking vast tracts of new ground. In 1976, Grace was also first to publish the term "developmental defects of enamel" (DDE), in a paper title and according to PubMed at least. We think all of this qualifies her as doyen of the DDE era, and superstar in D3G eyes today.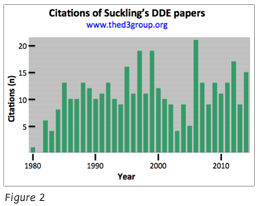 However, it is said that "pioneers get the arrows and settlers get the land", and such adage might indeed apply to Grace. Citations of her work have been quite steady over the years (Figure 2), earning today an h-index of 13 from >380 cites – highly respectable, all things considered. Yet surprisingly, her citation rate has not increased in parallel with the recent "explosion" in Molar Hypomin publications (Figure 1). To us this suggests an awareness problem that hopefully the scientific community and this webpage will help rectify. Earnest students of D3 simply must understand Grace's work.
GRACE'S BIBLIOGRAPHY
DDE epidemiology
DDE Pathogenesis
DDE biophysics
Suckling GW, Nelson DG, Patel MJ. Macroscopic and scanning electron microscopic appearance and hardness values of developmental defects in human permanent tooth enamel. Adv Dent Res. 1989; 3(2):219-33. PMID: 2640433


Suckling GW, Purdell-Lewis D. Macroscopic appearance, microhardness and microradiographic characteristics of experimentally produced fluorotic lesions in sheep enamel. Caries Res. 1982; 16(3):227-34. PMID: 6954000 
DDE Index
Suckling G.
DDE index. N Z Dent J. 2005; 101(4):110; PMID: 16416749


Suckling GW. History of the DDE indices. N Z Dent J. 1998; 94(415):9-11. PMID: 9584449


Cutress TW, Suckling GW. The assessment of non-carious defects of enamel. Int Dent J. 1982; 32(2):117-22. PMID: 6956547
DDE Fluorosis
DDE Doctoral thesis
Suckling, GW. Developmental defects of dental enamel. Doctor of Dental Science Thesis. University of Otago, 1996.
Other publications