MORE

ABOUT

PROTEINS
(continued from Toothy Proteins)
Excessive protein in Chalky Enamel
Chalky Enamel has lots more Protein than Normal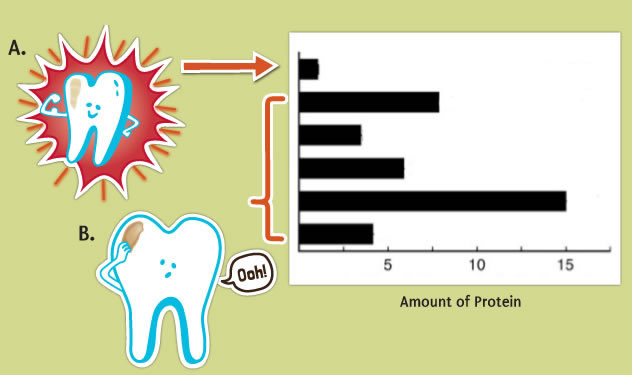 PROTEIN ABUNDANCE TEST
This Biochemical Assay lets Researchers measure how much protein is in enamel, as follows:
A. Normal Enamel contains very small amounts of protein, consistent with the teensy gaps that exist between the Enamel Rods and Mini-Brick Minerals
B. Chalky Enamel has much more protein (varying from 3-fold to over 15-fold higher in different teeth), consistent with there being more space available in its Pores. It is likely that such excessive amounts of protein play a key role in the development of Molar Hypomin
WHAT THIS MEANS FOR MOLAR HYPOMIN AND THE D3 GROUP
By learning more about variations in Protein Content of Chalky Enamel, D3 Researchers might be able to unlock secrets about what causes the problem and why the Biophysical Properties are so weird
Deeper understanding of this Protein Stuff will also guide Dentists and Researchers towards developing better Repair Techniques and Materials for Molar Hypomin
Blood ProtEin in Chalky enamel
The main protein of Chalky Enamel is typically found in blood
PROTEIN IDENTIFICATION TEST
Used together, two Biochemical Techniques (Gel Electrophoresis, Mass Spectrometry) let Researchers work out the Identities (names) of the Proteins in enamel, as follows:
A. As already shown in the Kids Section, Chalky Enamel contains lots of proteins that appear Blue in this "Gel Electrophoresis Test", as predicted in the box above. You can see that most of the Protein appears in one place (Strong Blue Band by lower Red Arrow), suggesting that the excessive protein in Chalky Enamel is mostly of one type
B. In contrast to Chalky Enamel, this Strong Blue Band is absent in Normal Enamel
C. When the Strong Blue band was tested with "Mass Spectrometry", its identity was found to be "Serum Albumin". Although found in several places throughout our bodies, Albumin mostly is associated with blood.
WHAT THIS MEANS FOR MOLAR HYPOMIN AND THE D3 GROUP
The finding of Albumin in Chalky but not Normal enamel, together with evidence that it got their during development of the tooth, has led to exciting new ideas about how Molar Hypomin might come about
There is now urgent need to learn much more about this subject as it could provide insights to both the prevention and better treatment of Molar Hypomin
WANT TO LEARN MORE?
IMAGE CREDITS
Electrophoresis Gels courtesy of Vidal Perez
Protein Abundance graph adapted from this article