PUBLICATIONS ABOUT D3G
Journal articles
Two articles outlining D3G, the Chalky Teeth Campaign, and "the Molar Hypomineralisation problem" have appeared in highly regarded academic journals recently. Importantly, these articles have broken new ground by introducing D3G's "translational terminology" ("D3s", "chalky teeth", "chalky molars" etc) to the academic literature following successful road-testing on the public and practitioners. This advance provides a rare example of "reverse translation" – most talk today is about the other direction (converting academic advances to public good), but clearly both directions matter. For more information see D3G News Sept 2018 and May 2018.
Molar Hypomineralization: What is the US experience?
Hubbard, MJ (2018) J Am Dent Assoc, 149, 329-30
Free download here.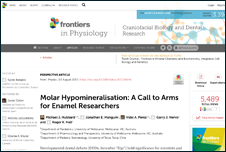 Molar Hypomineralisation: A call to arms for enamel researchers
Hubbard, MJ, Mangum JE, Perez VA, Nervo GJ, Hall RK (2017) Frontiers Physiol, 8, 546
Free download here.
EDUCATIONAL WEBINAR AND PODCAST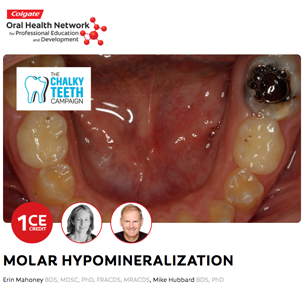 Continuing education webinar on Molar Hypomineralisation
(Colgate Oral Health Network, USA)
Colgate America kindly hosted a free webinar in support of D3G's Chalky Teeth Campaign. This uniquely "D3 flavoured" continuing education lecture by Erin Mahoney and Mike Hubbard was held in November 2018 attracting a record live attendance. For more information including Colgate's poll about Molar Hypomin
awareness, see D3G News Dec 2018.
The webinar can be viewed here with free registration (1 hour CE credit).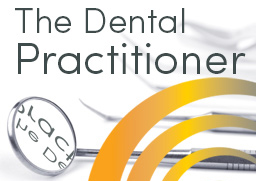 Continuing education podcast on Molar Hypomineralisation
(ADA-NSW, Australia)
March 2019
Kindly hosted by the New South Wales branch of the Australian Dental Association, Mike Hubbard talks about clinical aspects of Molar Hypomineralisation through a translational lens.
Listen here (23 minutes).
D3G IN THE NEWS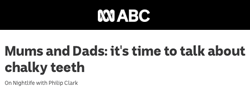 ABC Radio Australia interview
February 2019
Mike Hubbard talks about "chalky teeth", Molar Hypomin and the Chalky Teeth Campaign. Listen here (12 minutes).
---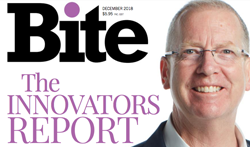 Australian Bite Magazine feature on dental innovators
December 2018
The D3 Group and Mike Hubbard are featured in an article about "5 visionary Australians transforming dentistry". Read here.
---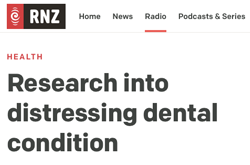 Radio New Zealand interview
October 2018
New Zealand D3G representative Dorothy Boyd and Mike Hubbard talk about "chalky teeth", Molar Hypomin and the Chalky Teeth Campaign. Listen here (10 minutes).
---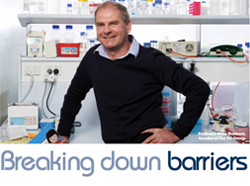 Article in Bite magazine
September 2014
D3G founder, Mike Hubbard, relays his vision and experiences in establishing D3G as a world-first translational research and education network centred on understanding and care of people with D3s. Read here.
---
D3G's "Chalky Teeth" campaign launch




August 2013




D3G's Chalky Teeth Campaign was launched alongside our new online education resource and medico-dental initiative (see D3G News, August 24 2013 and Past Events). Pleasingly, our adoption of "chalky teeth" as a public-friendly term for Molar Hypomin (and other D3s) seemed to gain immediate acceptance from the broader media and public. Within a week, the "1-in-6 kids have chalky teeth" story had been picked up nationally (TV, radio, papers) and internationally, leading to >40 reports worldwide. This exposure led to a major surge in website traffic and correspondence received from across the sector.